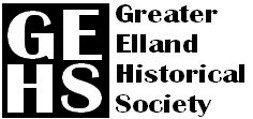 Members Meeting 13th October 2021
The next meeting will be the Annual General Meeting, followed by a talk from the Society's President Janice Nichols on her involvement within the Greater Elland Historical Society and the various rolls she has undertaken over the last 40 years.
There will also be a display of old photographs and various artefacts for members and guests to view.
The GEHS has been able to restart due to the efforts of its volunteers.
Can you help the committee?
If the answer is yes, then please speak to any member of the committee.
A warm welcome will be given to all members both old and new.
Our meetings are held at the Elland Working Men's Club, South Lane, Elland at 7.15 pm
8 August 2021
WELCOME BACK
It has been sometime since our last meeting. Hopefully you are all well and have managed to keep yourselves out of harm's way.
You will be pleased to hear that your Committee has been working tirelessly over the last few months to get everything in place to enable our monthly meetings to recommence – and we've done it!
Our monthly meetings will start again on Wednesday 8th September 2021 at the Elland Working Men's Club, South Lane, Elland at 7.15 pm.
Our first speaker of the 2021/22 Winter session will be Mr James Lyte on The Story of Abide with Me by Henry Francis Lyte.
We look forward to welcoming old and new members to our meeting in September.
Everyone who is attending any meetings needs to be mindful of others. If you are feeling unwell it would be preferable if you remain at home.
Let's all stay safe and look after each other.
See you in September.
The Committee