Members Meeting – 8 June 2022
Mr Vincent Dorrington gave an illustrated talk on "Old Lindley".
Mr Dorrington used to be a History teacher and since retirement has spent a great deal of his time doing research into the area where he lives. Starting with Lee Hill in Old Lindley. This led to him carrying out more in depth research into the area. His talk started way back with an Iron Age Settlement and progressed through the centuries, through Roman times, right up to the present day. Through a variety of photos and pages of text, he recalled memories of fascinating buildings, grand old homes, public houses and breweries that existed in the area, before their disappearance to make way for the construction of the M62 motorway.
This was a very interesting talk which those in attendance thoroughly enjoyed.
Mr Dorrington is an active member of the Mount Community Group which holds regular events which have included history talks, quizzes and film nights in the past. Details of the Group's future events can be found on the Mount Community Group Facebook Page. The Group issues quarterly newsletters providing details of forthcoming events.  These can be sent to you by e-mail. If you would like to be added to their mailing list, simply send us a request via the Contact Page on this Website.  Your request will then be forwarded to Mr Dorrington.
The next meeting at Mount Methodist is on 16 July 2022.
Exhibition of historic maps and photographs of Mount and its surrounds.
Location: Mount Methodist Church, Moorlands Road, Mount, HD3 3QU
Date and Time: Saturday 16th July 11:00 am to 3:00 pm
Admission FREE: Refreshments available
Mount Forum: Tuesday 12th July 7:00 pm at Mount Methodist Church, Moorlands Road, Mount, HD3 3QU – deals with all matters concerning Mount – Free admission.
Members Meeting – 11 May 2022
The speaker at our May meeting was Robert Hamilton who gave a talk on "The Lady Globetrotter – Lizzie Humphries".
Lizzie was born Elizabeth Yates and started life at Kelsey Street, Halifax in the 19th century. She left England for a life in Canada in 1908 and it was there that she married Mr Harry Humphries and her travels and adventures began. She, and her husband, set out to circumnavigate the world on foot. As you would expect everything did not go quite as planned. Further details of Lizzie's fascinating life and adventures can be found in Mr Hamilton's book "The Lady Globetrotter".
Members thoroughly enjoyed the talk and many purchased a copy of Mr Hamilton's book, which he duly signed.
Please contact Mr Hamilton direct if you would like to purchase a copy of his book. His e-mail is robhamilton@live.co.uk.
Let's hope the next drama series we see on TV is based on the life of Lizzie.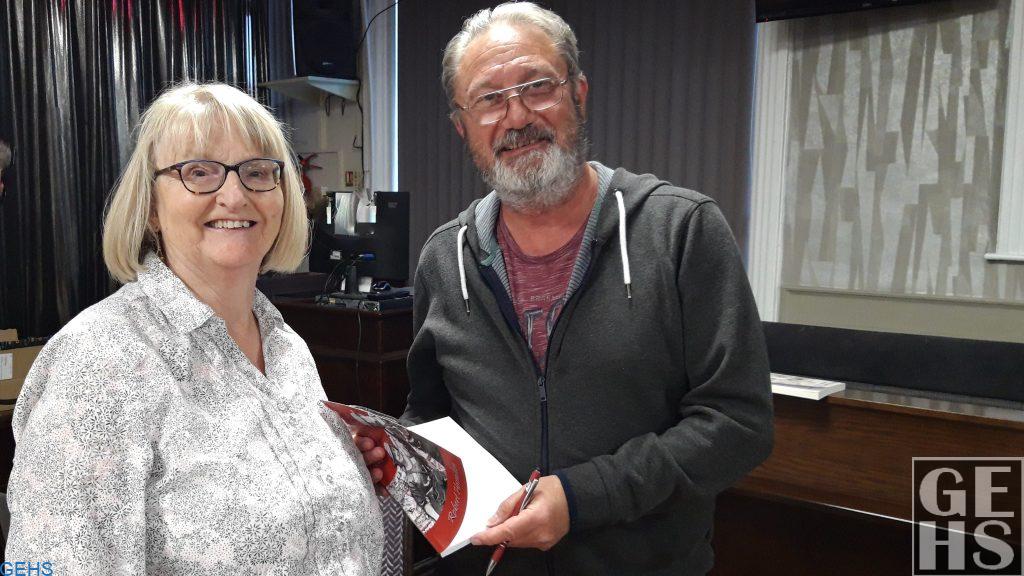 Members Meeting – 13 April 2022
The speaker at the April meeting was Denise Adlard and the talk was "A semi-humorous look at OCD" – and so it was!
Denise gave us an insight into the ups and downs of living with, and living with someone, that has OCD. Some of the scenarios shared by Denise did resonate with quite a few of the members during the evening. From the sorting of pegs into colours before hanging out the washing, which of course had to be hung in a particular order, to the precise way in which a person with OCD likes to see a table set for an evening meal – the sitting on hands being a necessity when being invited out for a meal at someone else's house.
Denise presented information on this very serious condition in a very humorous way which, at quite a few points, had the audience laughing and often nodding in "guilty" agreement.
MEMBERS MEETING 9.3.2022
Members came out in their large numbers on Wednesday evening to hear the very popular Mr David Glover speak about the "Wittiest Vicar in Halifax", Reverend Francis Pigou.
Reverend Pigou was born in Baden Baden, Germany to English parents. He was educated at Trinity College, Dublin and was ordained in 1855.
Reverend Pigou held several posts in England, as well as in Paris. He had been Chaplain in Ordinary to the Queen before he was appointed the Vicar of Halifax in 1875. It was during his incumbency that the complete restoration and refurbishment of the church took place.
David's presentation gave members an insight into Reverend Pigou's family life and into his life within the structure of the church.
As you would expect, the presentation was very well received and enjoyed by the members.
Members may be interested in the following future presentations by David in support of the Square Chapel, Halifax. These will take place on Wednesdays at 2.15 pm.
25 May Old Halifax Photos – 10 New Selection
31 August Halifax in the 1970s
28 September Father to Gentleman Jack: Life of Captain Jeremy Lister
26 October The Life Story of Halifax Parish Church – Now Minster
30th November Fine Halifax Houses for Men, Small Flats for Women – and Almshouses
Tickets are £6.00 and can be booked online via the Square Chapel Website or tel 0343 208 6016
Members Meeting – 9 February 2022
Andrew Gilmour led a tribute to Brian Hargreaves, a local historian and one of the founder members of the Greater Elland Historical Society. Andrew's presentation gave us an insight into the life of Brian and into to the contribution that he made to both his community and the GEHS. The presentation also included a large selection of images which had recently been donated to the Society by Brian's family.
A lasting legacy of Brian's work are the books that he published, all of which are still available.
Volunteers from the History Room brought along various albums containing images and newspaper cuttings from the Brian Hargreaves Collection. These, and much more, can be viewed in the History Room and the Elland Library. The History Room is open Tuesday & Thursday afternoon 1.30 – 3.30 pm.
Andrew would like to thank David Glanfield, Maureen Odams and Richard Dyson (Richard Of York) for their valued contribution to the presentation and also to the volunteers from the History Room for bringing along some of the collection for members to view.
As you would expect, the evening was very well attended and enjoyed by over 60 members and guests.
Members Meeting -12 January 2022
David Allen was due to speak to the Society at the January meeting but, due to a fall, was unable to attend. The Society wishes him a full and speedy recovery and hope to see him sometime in the future.
Mr Phillip Wilkinson agreed to stand in at the last minute. Phillip gave a talk on Roman History titled "Tales of Adultery, Power and Military Might".
The talk touched on the many different legions in Britain and around Europe, the high levels of training undertaken by the soldiers and the high standard of the equipment and weapons they had available to them. He also detailed the number of high quality, straight, roads for which they became famous. He also provided members with details of his visit to Hadrian's Wall and the building of the wall by the Romans.
This short and informative talk was enjoyed by the members.
The Society would like to thank Phillip for standing in at such short notice.